I received an email today from the Ō2NL Project Team, O2NL@nzta.govt.nz about works to begin Wednesday 25 October at the intersection of Waikawa Beach Road and SH1.
Downer will soon extend the side barrier between the Manakau Store and Waikawa Beach Road and install a footpath behind the side barrier which will extend to the store. They will also install a new concrete island in the northbound shoulder and widen the road north of Waikawa Beach Road, in preparation for the median barriers that will be installed at a later date. Email and letter below. My emphasis.
I wanted to send through the letter that we have provided to residents along State Highway 1 in the area to inform them of the upcoming works at Waikawa Beach Road. We are due to begin work at this intersection next week, and expect this work to take about 3 weeks. The details of the construction work is outlined in the attached letter.

Should you have any questions about this work, please do get in touch.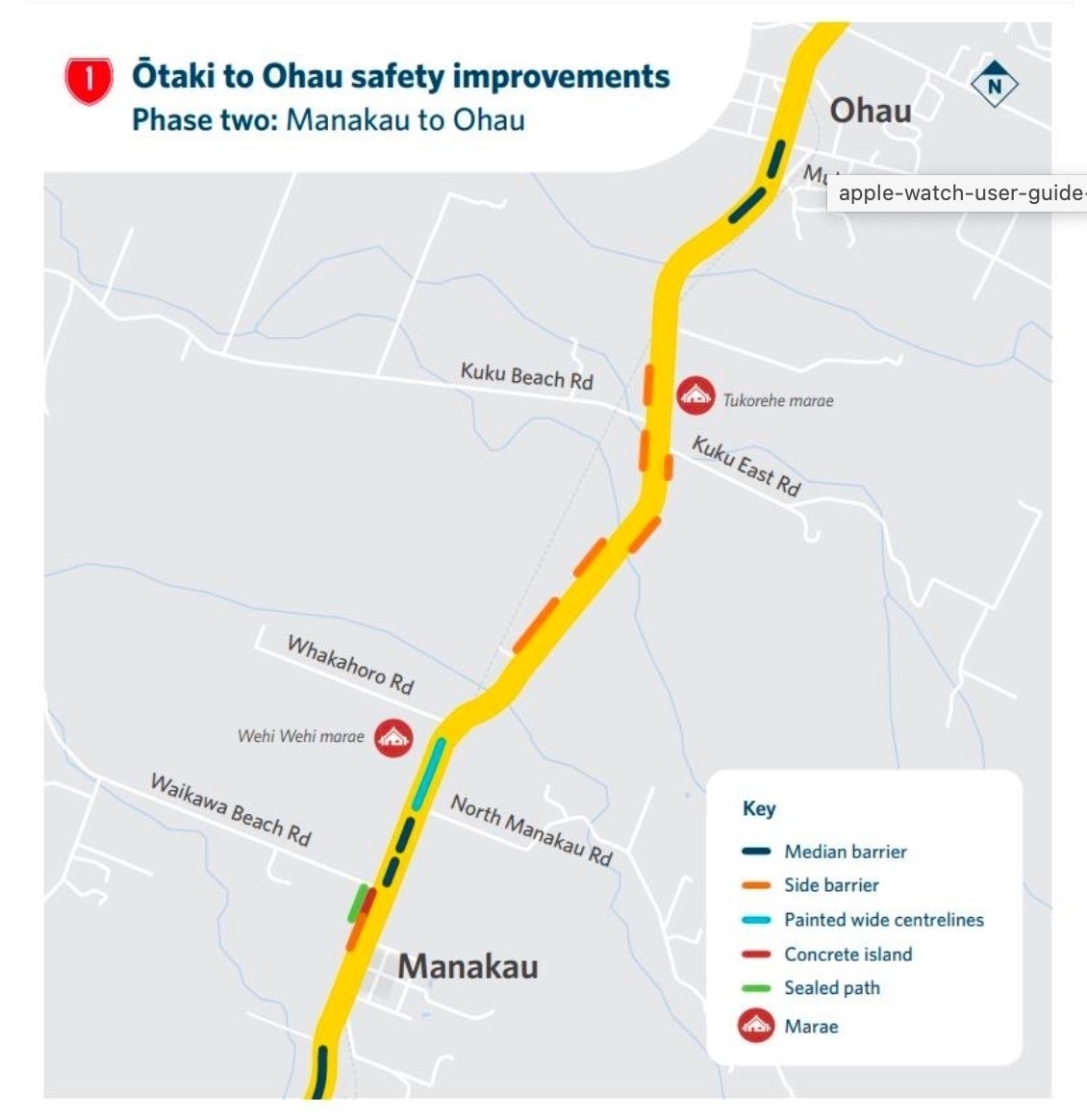 CONSTRUCTION UPDATE - Ōtaki to Ohau safety improvement project

Side Barrier & Footpath Waikawa Beach Road

Over the last few months, the Ōtaki to Ohau safety improvement project has been underway between Ōtaki and Manakau. We recently began works on the next phase of the project from Manakau to Ohau, which includes stretches of median and side barriers and painted wide centrelines. We are also working to make the intersection of Waikawa Beach Road and State Highway 1 safer.

Contractor Downer will soon begin work on the safety improvements at the Waikawa Beach Road/ State Highway 1 intersection. This work includes extending the side barrier between the Manakau Store and Waikawa Beach Road and installing a footpath behind the side barrier which will extend to the store. Downer will also be installing a new concrete island in the northbound shoulder, which will improve safety for vehicles waiting to turn right out of Waikawa Beach Road. The team will also be widening the road north of Waikawa Beach Road, in preparation for the median barriers that will be installed at a later date. We will keep you updated when this work is scheduled to begin.

The map [above] shows the safety improvements in your area.

From Wednesday 25 October, construction crews will begin work on these safety improvements at the Waikawa Beach Road intersection. This work will be carried out during the day, between 7am and 5pm, Monday to Friday. A temporary road layout will be in place which will shift both lanes to the east to ensure traffic can continue to flow and minimise delay and a temporary 50km/h speed limit will be in place during these works, to keep road users and our crews safe.

During this time, there will continue to be access in and out of resident driveways and access in and out of Waikawa Beach Road. Please follow the directions of traffic management onsite.

This work is expected to take approximately 3 weeks. Please note, the work is dependent on weather and other worksite variables.

If you have any questions about these works or need assistance, please feel free to reach out to Clint Dunstan, Downer Stakeholder and Communications Advisor, phone 0225057152, or email Clinton.Dunstan@downer.co.nz.

You can also find out more about this safety improvement project at www.nzta.govt.nz/sh1-otaki-to-ohau or by emailing O2NL@nzta.govt.nz.

Thank you for your patience while we work to make State Highway 1 safer for everyone who uses the road.

Ngā mihi
Wayne Holcroft
Senior Project Manager
Transport Services, Waka Kotahi