When I drive along Waikawa Beach Road I sometimes wonder about those who were there before us. In particular, the blue tsunami line near Takapu Road makes me think of how moa were roaming this area thousands of years ago.
Long before Europeans arrived at Waikawa Beach there were thriving settlements of Māori, and before them, probably of Moa Hunters. We speculate about the Moa Hunters because of moa bones found in this area.
According to Page 35 of the booklet issued on the 90th Jubilee of Manakau School in 1978, moa bones were found at Takapu Road in 1962.
And here's the photo of that find: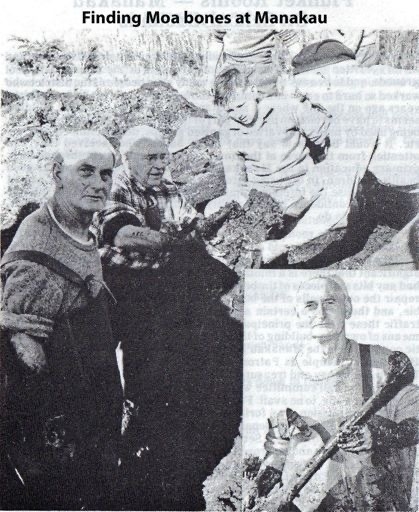 Meanwhile, on the school's 100th jubilee, they had more to say — Kete Horowhenua again:
In 1962 Mr. Fred Abernethy discovered a number of Moa bones on the property of Mr. W.I. Hazlitt, Takapu Road, and many hours of work by Mr. Abernethy and local residents in recovering the bones were much appreciated by the Dominion Museum.
WAIKAWA BEACH

Ken Dalzell

Foundation Chairman of Waikawa Beach Ratepayers Association

Long before the coming of the first European, Waikawa had a large Maori population, firstly probably of the ancient Moa Hunters as indicated by a collection of Moa bones found in the Takapu Road area, then of the Muoupoko people who had several Pa in the area. In about 1822 the Muoupoko were conquered and driven out by Te Rauparaha and this area was apportioned to and settled by the Ngati Wehiwehi and Ngati Tukorehe hapu of the Ngati Raukawa, having migrated from their ancestral home in the Waikato.
There are other references too, such as this line in An Eye for Country: The Life and Work of Leslie Adkin, By Anthony Dreaver, page 237:
At Manakau, a draindigger unearthed a cache of huge moa bones.
The Journal of the Royal Society of New Zealand, Dec 1989, page 423 has this:
The Takapau Road site is 600 m down Takapau Road, near Otaki, G.R. S25 948532, series NZMS 260. It is in the middle of a peat swamp, and was found during drainage works by Fred Abernethy. He invited Messrs C.J. Lindsay and C. McCann to make a preliminary examination, which they did in 1961. Abernethy was subsequently responsible for the recovery of most of the bones now known from this site at intervals between 1961 to 1984, but J.C Yaldwyn, J.A. Bartle, and C.J. Paulin also excavated some.
T.H. Worthy (1990) An analysis of the distribution and relative abundance of moa species (Aves: Dinornithiformes), New Zealand Journal of Zoology, 17:2, 213–241, DOI: 10.1080/03014223.1990.10422598, page 221 says:
A. didiformis dominated the late Holocene fauna in a lowland swamp at Clevedon, South Auckland (Millener 1981). Likewise it was the most common species in the mudhole at Makirikiri, near Wanganui (Archey 1941; Appendix 3) and the swamp site at Manakau, north of Wellington, both argued to be of Holocene age (Worthy 1989d).
That article had more details scattered throughout about the various species and what was found at Takapu Road.
Te Ara has a great article on moa, Trevor H. Worthy, 'Moa - Scientific classification', Te Ara — the Encyclopedia of New Zealand, www.TeAra.govt.nz/en/moa/pa… (accessed 7 September 2017), which tells us:
The nine moa species currently recognised are:

two giant moa — the North Island (Dinornis novaezealandiae) and the South Island (Dinornis robustus)
two moa with blunt bills and short legs — the eastern (Emeus crassus) and the stout-legged (Euryapteryx curtus)
four anomalopterygine moa — little bush moa (Anomalopteryx didiformis), Mantell's moa (Pachyornis geranoides), heavy-footed moa (Pachyornis elephantopus) and crested moa (Pachyornis australis)
upland moa (Megalapteryx didinus).
Those Anomalopteryx didiformis, so common around what is now Takapu Road, weren't quite the huge moa we know from pictures. As NZ Birds Online tells us:
The little bush moa was the smallest and most widespread moa species, occurring in forest throughout the North and South Islands. Slender with relatively long legs, it inhabited dense forest and shrubland. It was the only species in the genus Anomalopteryx. Its relatively short, sharp-edged bill appears to have been more suited to cutting than those of other moa species. …

The little bush moa was turkey-sized, lightly-built, with a rounded head, a short, stubby, rounded bill, and relatively slender legs. Its legs were bare and scaly, and it had shaggy hair-like body feathers.
Here's a picture courtesy of Te Papa: Little Bush Moa. Anomalopteryx didiformis. From the series: Extinct Birds of New Zealand., 2005, Masterton, by Paul Martinson. Purchased 2006. © Te Papa. CC BY-NC-ND licence. Te Papa (2006–0010–1/22)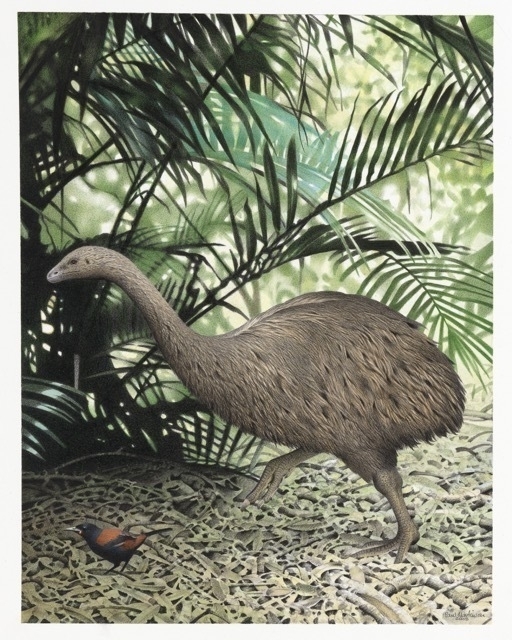 So, next time you drive past Takapu Road think of the moa!